W222 S Class 2015 General Notes
Miller oils
Has nano particle that do seem to work and improve noise and increase mpg.
Miller oil:
EE Longlife C3 5w30 (7707)
Capacity 8L
Filter:
Bosch oil filter ££9 ebay
Part no 1J910029
You can easily do an oil and filter change using this quality oil and filter – for a fraction of the dealer cost you get a better job using better oil. This is the main 'service' item the dealer does on a standard service.
Coolant
Loads of rubbish on net, this does the job imo:
Comma G40 Antifreeze and Coolant RM 2L – get concentrated!
Halfords £19
Stereo et all
Looked at improvements. Issue seems to be that unless you spend a fortune changing everything it is not easy to make quality improvements. All the systems (standard, Burmester, 3D) all use cheap parts, but they are tuned to work together quite effectively.
Playing lossless music files (flac files)
I have CD changer Burmester system which is pretty good. I have now found a way to put flac files from my CD collection on to a USB stick and get them to play.
I use the DbPoweramp program to get the flac files from the CD's. (They sound identical to the CD's as the digital information is identical).
There is a load of stuff on forums about this – but there is a simple solution:

Unbelievably this is really easy as all you need to do (once you have you flac files on say a laptop), is to change the .flac extension to .mp3

Mercedes programming just looks at the extension to see if it is a music file – if its .mp3 then it plays, it does not seem to understand the .flac extension (which is just a programming omission I expect). The system does not seem to care what the actual format of the files are, it just plays them anyway!

To do this change easily, on say a laptop with Windows op system, put the files into a specific folder (eg flacfiles folder on the C: drive) and run the command line, eg:
C:/flacfiles>ren *.flac *.mp3
This renames all the extensions from flac to mp3. Just copy these files to your USB and plug it in to the merc USB in the central armrest compartment.
Merc Maintenance Manual (WIS - workshop info system)
You can get this from ebay providers cheaply. It is a large download and requires some tricky IT installation. However, it is not easy to use or find the right info even when installed fully.
Jacking UP Points & wheel nuts etc
NO JACK supplied
NO SOCKET supplied – but standard 17mm work perfectly… it doesn't matter if the bolts get marked (all are anyway) as you cant see them on the 19 inch wheels! And the inside of the paint cant be seen either, so you don't need a special tool
TO JACK UP
I use standard large workshop 2.5 ton jack under the standard jacking points under the sill sides (fits nicely). Remove the plastic housing first (clips down – use plastic prise to flick the cover upwards, remove it completely by flicking out the plastic connector)
There does not seem to be any necessity for using a wood block between jack and jacking point.
Lift is heavy, but seems to work ok.
I use the wheel/tyre under the sill with a thick piece of oak on top to support the car if the jack fails, never depend on the jack – sod's law says it will fail just when you have stuck you head under.
Centre Jack Points: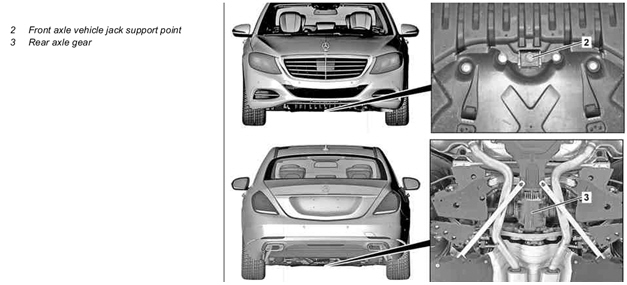 Tyres (pump up for less noise)
Tirefit kit – ebay £40
Current: Bridgstone Potenza 100s (Blackcircle £156/145 tot: £600) noise: 71dB)
F: 245/45 R19 102 Y XL
R: 275/40 R19 101 Y
Pressure
F 35 to 40 psi (240 to 280)
R 35 to 40 psi (240 to 290)
Low noise (blackcircle):
Michelin primacy 3 acoustic, 69dB (£200) note better efficiency rating: B (reviews good)
Avon zx7, 70dB (£128)
Rotalla RU01, 69dB (£87 cheap make, wet grip?)
Cross climate Michelin 71dB (£210)
Polish /Wax
https://www.expertreviews.co.uk/car-accessories-equipment/
1406412/best-car-wax-2019-uk-the-best-car-waxes-and-sealants-you-can-buy
£17 . Bilt Hamber double speed-wax: works really well to give long term protection
Aniline Leather conditioner
https://www.chambersnaturalproducts.com/aniline-leather-conditioner/
Natural leather dyed with soluble dyes
This rubs in best using your hand to massage it into the leather, use sparingly as it needs to sink in or it will shine the leather and fill the holes
Perfume Atomiser (air balance package) –refills
Forum – "Fairly easy to open. Use a razor knife and score around the bottle where the top meets the glass. This will cut the adhesive and allow easy unscrewing."
My bottle broke at the top when I tried to get the top off, but I just stuck the glass back together using araldite.

I found a supplier on ETSY for cheap natural oil: worked well, nice smelling.
LindsayLucasCandles
Car diffuser Refills: Size: 50 mL
Scent: Cedarwood
Quantity: 1
Price: £10.49
Smart Phone integration – especially for google maps navigation (as the standard system is rubbish)
Not found the best way yet. Issues:
Sound integration?
Screen resolution (as other vehicles have smaller width screens)
Need to know exact NTGXX and head unit (Integrated automotive are helpful)
Some options are:
https://integratedautomotive.co.uk/product/mercedes-benz-s-class-
w222-2013-2018-ntg-4-5-4-7-5-0-5-1-retrofit-carplay-and-android-auto-upgrade-kit/
£450 Leicester company UK
https://www.android-car-dvd.de/collections/wireless-carplay-android-auto
£215 … sent from china?
https://www.amazon.co.uk/Road-Top-Retrofit-Navigation-2015-2018/dp/B08J46BFPD/ref=sr_1_4?dchild=1&keywords=
w222+Carlinkit+Wireless+Carplay%2FAndroid+Auto+Modified+Module&qid=1620734446&s=electronics&sr=1-4
£270
To show 'Workshop Level' on screen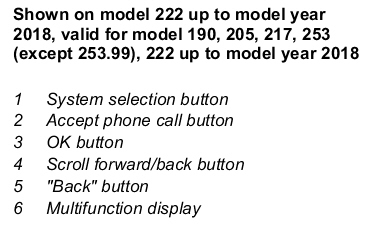 Youtube guides
Oil & Filter
https://www.youtube.com/watch?v=M8QAilmJk0s
https://www.youtube.com/watch?v=lfK0b1mxqTI
Brake disks / pads
https://www.youtube.com/watch?v=GtPGQ4jOi5k
Air filter
https://www.youtube.com/watch?v=D_veiO8ir8c
Wiper blades
https://www.youtube.com/watch?v=KNZDgNR37F8
Remove blades
https://www.youtube.com/watch?v=KNZDgNR37F8
Fuses
https://www.youtube.com/watch?v=1n8wpisoIvY
Extend bonnet opening
https://www.youtube.com/watch?v=s2n1lUW7Pu8
Remove bumper
https://www.youtube.com/watch?v=LGGgJFuQFEc
Removing Door trims
Front:
https://www.youtube.com/watch?v=jWz0DAnIbWY
https://www.youtube.com/watch?v=7agGLfEYTP0
Rear
https://www.youtube.com/watch?v=kbBlLi0nnQc