The App of Apps
This is a very simple idea, with the main technology already with us. It only requires (acceptable) secure data storage and the use of current AI to enable its ground-breaking potential. The main solution involves data storage, data integration and associated standards.
Companies such a Google are already progressing down this road, but do we want such companies to be at the centre of such a major technology, one that looks like it will be at the very core of all future integration of data and systems for a very long time.

CST believes there is a pressing need to create a non-commercial system here.... maybe a world leading kickstarter project to create a secure distributed data system (see below).

We have apps already for many functions: -
Information apps such as real time traffic information including bus & train times, diary information etc.
Banking, purchasing and other monetary apps
Communication apps, texting, email, etc etc
Collaborative apps that lets us know what someone else is doing and where they are,
Technical apps that calculate the answer for many issues such as how far we walked,
Sensor & monitoring apps that inform us of specific values such as our heart rate, or where we are now (via gps)
Media apps such as spotify, news streaming, and all the social apps

There are another four requirements that are key to the app of apps:
A non-commercial secure server application that is smart enough to figure out what we are saying and interpret some further action (eg 'ok smart, give me the weather and find the best route....') Google and others already have this technology.





An independent, strongly encrypted database that includes; personal information, financial transactions along with a core identification system (based on blockchain technology that provides an unbreakable audit trail).




The definition of an interface for the transfer of data from app to app using strong encryption. An independent verification system could be used to monitor and check ID's and usage. Creating data security levels would reduce the number of apps that can access important data.



A strong verification system of ownership using voice, third party, sms (and other) identification info before linking to the user's main information database.
All of these exist independently today. The most difficult - exist already as the central smart server applications as siri, 'ok google', and cortana and all are making progress with good interpretation of the spoken word. With the continuing advancement in learning systems such as technology from Deepmind and IBM's gaming AI's, the requirement for a reasonably 'clever' central system will improve year on year.

This allows for rapid advancement in the app of apps. Current technology allows for simple messages to be conveyed to other apps, such as already happens with the siri, 'ok google' for say the weather or internet based information. With a bit more refinement, the app of apps would be able to garner information about the user, the users potential likes and dislikes along with critical information regarding travel, diary, whereabouts, financial information and medical information to provide an ever improving system.

The app of apps is dependent on people allowing the central system access to much of their personal information. This will be contentious and will initially limit the use of such a system. It is likely however, that some early users will opt for the added functionality over the risks involved with data protection. Once these users start to gain significant advantage, others shall follow.

The independence and non-commercialisation of the central systems are paramount - both for user's security and for attaining the widest take-up. Without this, many people (including the authors of CST) would not entertain using such all encompassing technology.

A short review of possible outcomes:-
Organisational issues such as arranging meetings, or just going down the pub

The app of apps would know who was doing what when. A brief enquiry to the app of apps via the smart interface would allow the central system to evaluate other people's engagements or whereabouts and directly communicate with their app of apps to evaluate the likelihood of this enquiry. If necessary and sensible, (eg not if the individual was potentially available), the app of apps system could ask the other people for a direct reply. Agreement would then be made between the two systems without any further intervention, updating diaries and future whereabouts. Updates would be automatically available, (depending upon set parameters), so for instance the app of apps could update its owner regarding a potential arrival at the pub and also suggest what they are likely to want to drink.


Purchasing items or services

The app of apps knows much about its owner, including pre-set requirements, current and future location, and financial information. A query to the app of apps asking it to find the best price, route, availability, would create a detailed set of possibilities. The central smart system could advise on the likely best alternatives. On selection, perhaps after further interrogation of the system, the purchase would be made, with the app of apps undertaking all communication, payment and administration necessary. The financial transaction, delivery details, timing, future notifications etc would all be automatic. For the provider, the transaction would also be completely seamless with the payment, accounting and with stock and availability systems being updated automatically. Such integrated smart technology would also provide for huge efficiency improvements and create a true end to end personal just-in-time provision for almost everything.


Automating basic provisions and forward planning

Many of life's boring chores could be consigned to the app of apps. Such items such as insurance, car tax, paying standard utility bills, re-negotiating best provision of services, diary entries that require some action (eg birthdays, holidays, travel), standard purchases along with provision of basic foodstuffs and stock items, could all be dealt with and completed with little or no intervention by the user. The app of apps could be primed to review all such provisions and check availability, price, consider alternatives and then provide timely information when a change was likely to improve provision. For instance, a forward planning system would consider the stock position and likely future stock of important items, making sure that the purchase and delivery was secured before the stock became scarce. Knowing the holiday or travel dates and likely destination, the forward purchase at best price could be considered maybe pre-booked subject to confirmation and agreed when destination confirmed.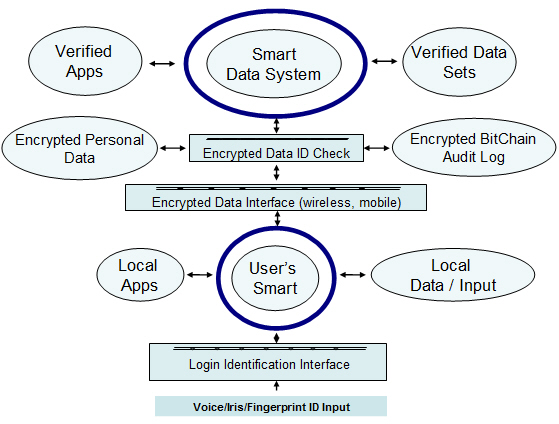 Business Transition:

The success of the app of apps will create a major shift in future business systems. The first use of the app of apps will surely be personal systems such as purchasing and control etc. But the success of this model will quickly lead to a new breed of business systems. These are often way behind the development of personal apps. One of the core difficulties is in creating a world wide system for integrating data.

This integration issue will be solved, and business apps can be created as 'modules' that handle specific data sets. For instance, automatic invoicing between businesses and the automatic processing of such transaction into back end accounting systems has never been properly implemented. The app of apps model will allow the checking and integration of all business data across the world. Gone will be the need to enter figures into a purchase or sales ledger.

New apps will be created to handle complex issues such as cash flow forecasting directly from historic data. ' Just-in-time' processing will become a reality, with end to end automated systems that are enabled by accessing relevant data across all businesses. Such new apps will be abe to predict the flow of goods and services and find cost effective solutions. Reporting can be reduced to flagging up key issues that require intervention, the normal day to day running and all accounting will continue in the background.


'Open' personal data using distributed & encrypted storage:
Encrypted, distributed, logged (blockchain)
Specific data storage locations designed to provide data integrity, uptime, quick access, strong oversight, security
Each data storage location keeps a blockchain log of all changes and this is cross check automatically to ensure integrity of data access changes
Data Integrity Check systems - Mobile, sms, Location / pattern recognition, third party approval (for universal changes or level 1 data)
Allowed usage levels
Administration via CST's new model organisation to facilitate upkeep and oversight
Small personal payment model to provide independence
Provision of data in standardised format to allow sharing (eg for app of app's)
It would work like this; a persons data is uploaded and distributed to specific encrypted storage databases in secure locations worldwide. Access codes (for decryption) are held separately within each location and cross checked when used. This would mean that more than one location must comply with the data access request. Blockchain technology can be used for logging changes and access, written across all data systems, ensuring any data breach would affect all data locations with multiple security checks.
The data can be organised into access levels. This provides everything from open data to highly secure data (eg financial access information).
When an app requests some data depending on the data security level the app undergoes security checking. This may require a range of security checks such as sms messaging, location checks, third party checks.
For instance, for an app requiring personal current location information, the app would have a pre-defined encrypted access code that is checked and cross checked with another data location. This access code is pre-defined when the user installs and notification sent to the user (and third party for certain levels of data). A delay can be added before data is accessible to ensure further protection.
An app sending data to the personal database would have similar checks and allowed data security levels.
Much personal data is either transient (eg location) or unimportant for security. So many apps could access and update data without significant security issues. This in itself would enable many apps to share data and improve decision making processes.
For example, travelling abroad, the location information, traffic density, time, diary entries, local weather, local hotels etc would all be available to all apps. Access to personal preferences and historic data (eg types of hotels and restaurants used before), an app for say finding places to stay would be able to provide much improved suggestions. This app may then offload to another app for making a booking which would have a higher access level and be able to advise on the result and get confirmation. If payment is required then this app would again offload into a payment app that has the required security level. This provides some insulation of sensitive data and especially money transactions. In this way there may only be one or two apps able to carry out money transactions and these apps would have a major installation delay with layers of checks before they can be used to access or provide data.

LINK - CST takes a light hearted look at such a potential future –
'The day in the life of a Plumber'
Robotics and artificial intelligence inquiry (published) - "The Next Big Thing - how the NHS can lead the UK (and the world) into the coming technical revolution"